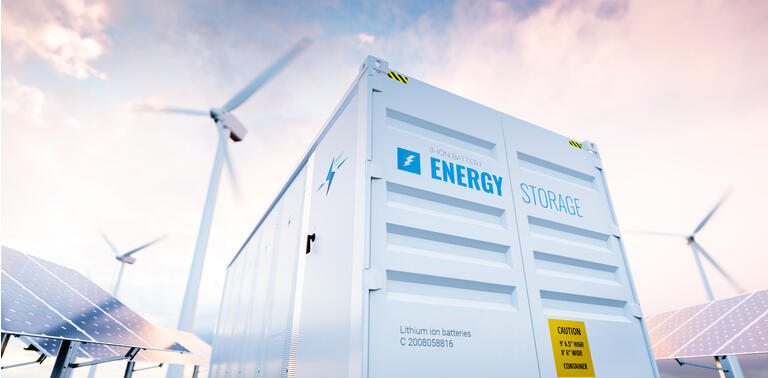 Thesis: Near-Term Disappointment Doesn't Change The Long-Term Outlook
Recently, renewable energy power producers have had a rough go of it.
The collapse of the proposed "Build Back Better" bill, which would have enacted multiple pro-renewables policies such as extending and increasing tax credits, has taken the wind out of the sails (or, uh, turbines) of renewables stocks.
Plus, the high probability of rising interest rates in 2022 further dampens investor enthusiasm for dividend-paying renewables companies that are likely to see their costs of capital rise as a result.
A third (temporary, in my estimation) headwind for renewables' stocks – developers in particular – concerns input cost inflation. Elevated prices for renewables components and construction labor have increased the cost of new installations, pressuring profit margins.
These issues have collectively led to a selloff in some of my favorite renewable power producers – Atlantica Sustainable Infrastructure (NASDAQ:AY), Brookfield Renewable (BEP, BEPC) Clearway Energy (CWEN, CWEN.A), and NextEra Energy Partners (NYSE:NEP) – in recent months: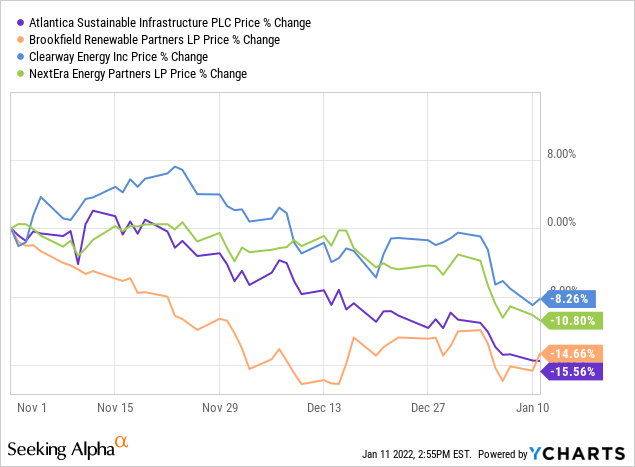 However, these near-term disappointments and headwinds do not diminish the attractiveness of the long-term prospects for these companies, as the political and corporate world is more resolute than ever to achieve tremendous decarbonization in the coming decades.
As such, all four of these dividend growth stocks make a compelling buy today.
Investing In The Energy Transition
Ten years ago, one of the most prominent narratives in the energy space was "energy independence." For decades, the United States had relied heavily on oil imported largely from adversarial (or otherwise problematic) countries while exporting meaningfully less oil and gas than we imported. Tons of capital flooded into increasing oil production as well as transportation, storage, refining, and exporting.
For a brief period in late 2019, we reveled in the fact that we had indeed achieved American energy independence, exemplified by the fact that the US exported more petroleum than we imported.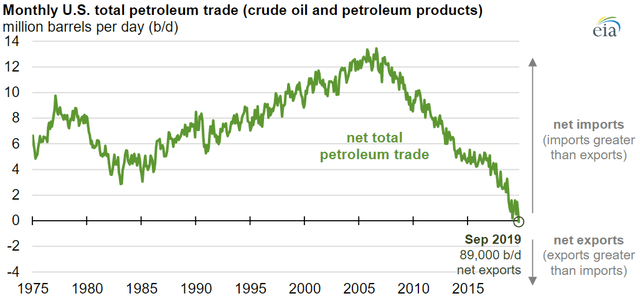 Since then, in the midst of a global pandemic during which all oil producers around the world cut back production, the US has vacillated between being a net importer and net exporter of petroleum. As of October 2021, the US was a net exporter to the tune of 538,000 barrels per day. But the month before that, the US was a net importer of over 1.1 million barrels per day.
You don't see any headlines anymore about "American energy independence" or the US remaining mostly a net exporter of oil. Why not? Because the narrative has changed.
Today, a trend that has been quietly compounding for decades has come to the fore. The "energy transition" or "decarbonization" narrative has taken over, and not without good reason.
The price of commercial or utility-scale solar panels, for instance, has plummeted in the last decade, and experts predict that this trend will continue steadily into the future (although most think the bulk of the deflation has happened already).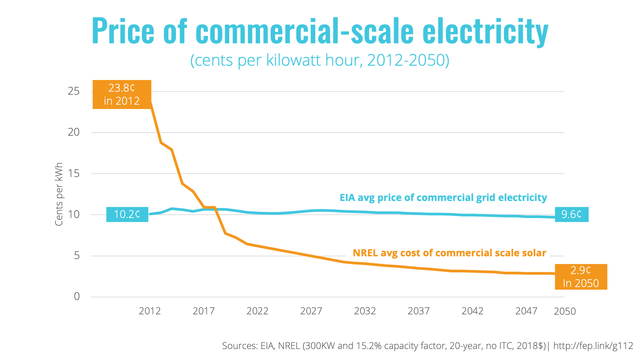 With the costs of wind and solar power assets becoming competitive even with the cheapest fossil fuels (even without considering tax credit incentives), it's no wonder that utilities have been adopting them in increasing amounts over the years.
In 2018, renewables' share of annual power capacity installations sat at an already impressive ~60%. But since then, it soared to nearly 75% in 2019 and over 80% in 2020.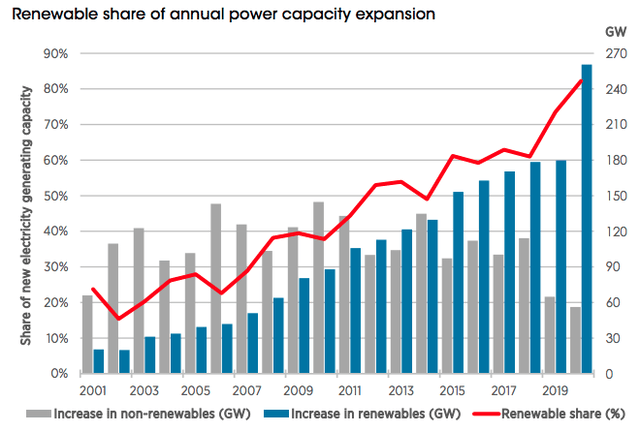 And this is only the beginning of a major wave of new renewables additions, as offshore wind takes off and solar-plus-batter storage becomes the new norm. Bloomberg NEF reports that large-scale solar capacity additions will be greater than wind for the first time ever in 2022.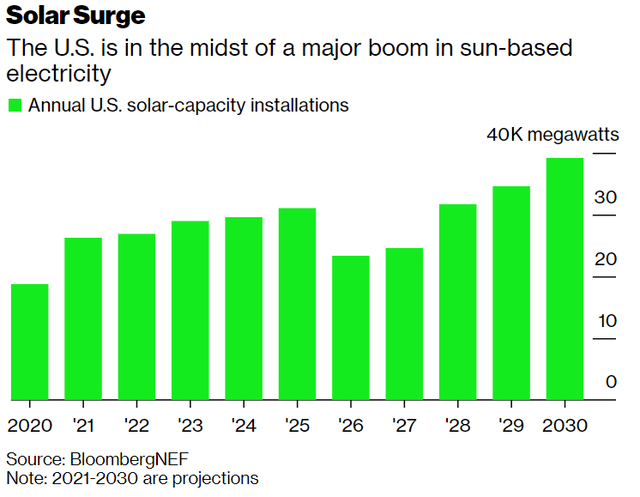 Remarkably, the US Energy Administration estimates that solar will account for 15% of US electricity generation in 2022, compared to 11% in 2021.
So, despite temporary setbacks and headwinds, the trend remains clear: hydropower and nuclear are steady sources of electricity while fossil fuels are losing share and renewables are gaining share.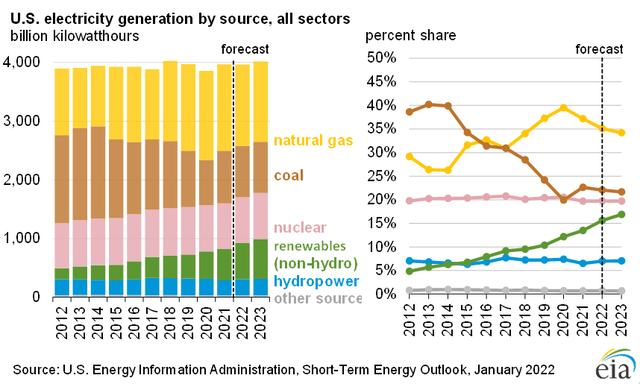 Solar will be the primary driver of this growth in renewables going forward, as advances in battery storage technology have gone a long way in solving one of the problems with renewables – their reliance on uncontrollable weather factors like the sun shining and the wind blowing.
Developers plan to add 5 gigawatts of battery storage capacity in 2022 and another 5 GW in 2023, representing growth of 84% and 43% respectively. Most of these battery storage projects are paired with solar arrays.
Naturally, then, the narrative in the media and the investment community switched from "energy independence" in the latter half of the 2010s to "energy transition" as we entered the 2020s. Renewable power producers (NASDAQ:RNRG) responded, enjoying their best year ever in 2020.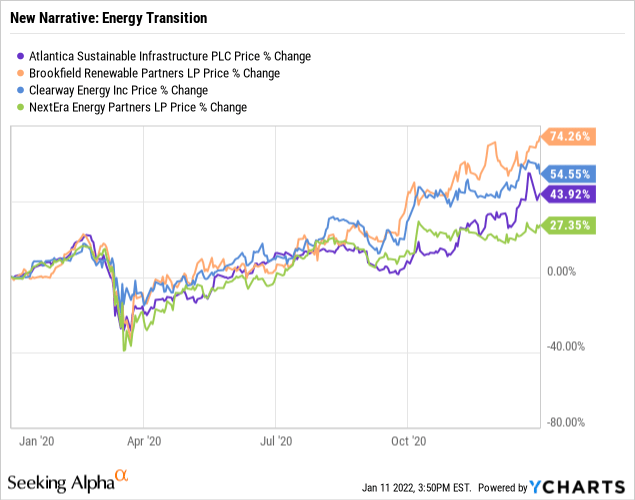 It certainly helped that it looked increasingly likely over the course of 2020 that a pro-renewables Democrat would win the presidential vote in November. But the narrative shift was not dependent on Biden winning then, and it is not dependent on the passage of Biden's key "Build Back Better" legislation now.
Decarbonization plans have already been put in place by utilities and corporations looking multiple years, even decades, out from now. It is difficult to see what would or could reverse this trend.
Interestingly, the worst performer of 2020 (but fastest grower since its IPO), NEP, became the best performer of 2021. Likewise, CWEN had another great year as it had a lot of catching up to do after entering 2020 with a depressed valuation.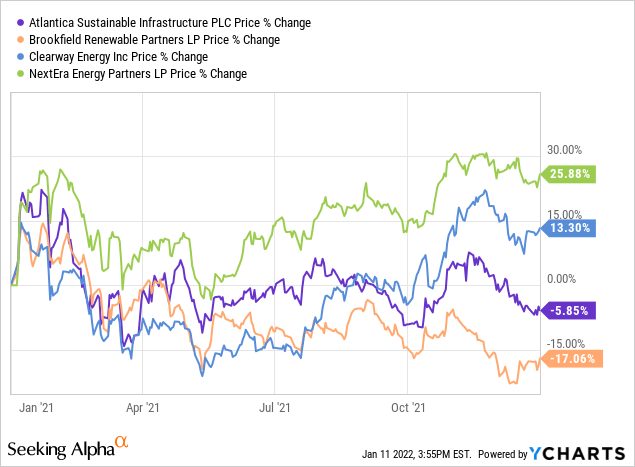 Since my May 12th 2021 article pitching these four renewables stocks, CWEN and NEP have outperformed the S&P 500 (NYSEARCA:SPY), while AY and BEP have underperformed.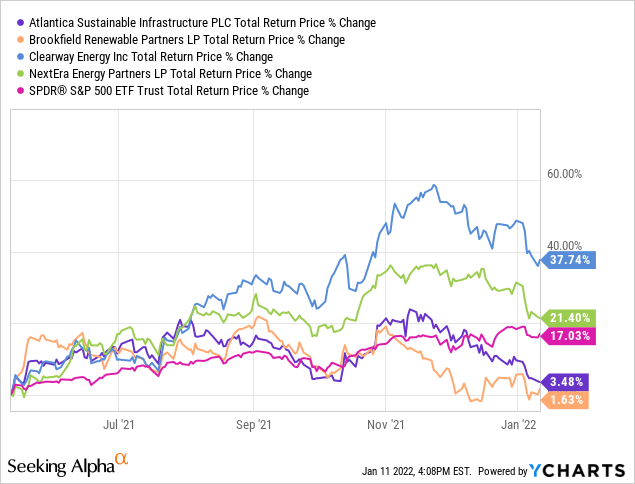 Let's briefly review each company to get an idea of the relative attractiveness of each one right now.
Atlantica Sustainable Infrastructure
AY underperformed in 2021 largely due to weaker-than-expected performance. In the first three quarters of 2021, AY generated 3.6% growth in cash available for distribution ("CAFD") per share, well below the company's target of 5-8% annually, and management now expects EBITDA to finish the year below their guidance range.
This underperformance of CAFD/share wasn't due to weak operational performance, as total CAFD rose 12.9% YoY in the first nine months of 2021. Rather, the slower per-share growth is due to equity issuance. From Q3 2020 to Q3 2021, weighted average shares outstanding rose 9.3%.
Also, AY suffers from the fact that only about half of its contracts have built-in rate increases, and only 37% of contracts have rate increases tied to inflation.
Another factor to consider with AY is foreign exchange. The company is domiciled in England, and it has assets all over the world, spanning North and South America, Europe, and Africa. Some years, forex should be beneficial to American shareholders, while in other years, it will be detrimental.
On the positive side, AY's portfolio of long-lived assets have an average of ~16 years of remaining contract life, and 100% of project-level debt (making up the vast majority of AY's total debt) fully amortizes before the end of each contract.
What's more, AY had already invested some $465 million in just the first nine months of 2021, well north of its annual target of $300 million. These investments should add to CAFD/share in the coming quarters and years. At ~16.5x CAFD, AY is the value play in this space.
Brookfield Renewable
BEP is the publicly traded partnership that produces a K-1 Form for American investors, while BEPC is the corporate version that represents one-for-one equal ownership as BEP.
BEP is the biggest and oldest dedicated renewable power producer in the public markets. Its 20.5 GW portfolio of assets, diversified across asset types and geographies, gives BEP better scale and expertise than any of its competitors. This is exemplified by its best-in-class balance sheet, BBB+ credit rating, $3.3 billion of total liquidity available for investments, and deep pipeline of development projects totaling 36 GW (175% of its total current portfolio).
In the first nine months of 2021, BEP generated 10.9% YoY FFO per unit growth and 19.6% YoY normalized FFO per unit growth. The third quarter was particularly strong, with 32% YoY FFO/unit growth and 16% YoY normalized FFO/unit growth. In the first nine months of 2021, distributions represented 81% of FFO and 71% of normalized FFO.
Moreover, around 70% of BEP's contracts feature rate increases tied to inflation, making its revenue streams remarkably inflation-resistant.
BEP looks poised to continue its historical distribution growth rate of 6% per year for many years, perhaps decades, to come. The company's scale, cost of capital, and expertise in project development make it a must-own stock in this space, in my opinion, despite its relatively rich valuation of ~23x CAFD.
Clearway Energy Inc.
CWEN and CWEN.A share identical ownership, but the company issues equity in the form of CWEN and thus its volume is much higher. However, despite a lower price, there has always been plenty of volume of CWEN.A for me, so I own that share class.
In the third quarter, CWEN's management announced the $1.9 billion sale of the company's thermal business, which amounted to 20% of its portfolio value but only 10% of CAFD, for which it expects to receive $1.3 billion in net proceeds. Management has already identified reinvestment uses for about half of these proceeds and expects to plow the rest of it into more renewables assets in the coming years.
Not only will this transaction increase CWEN's portfolio share of renewables once the proceeds are reinvested…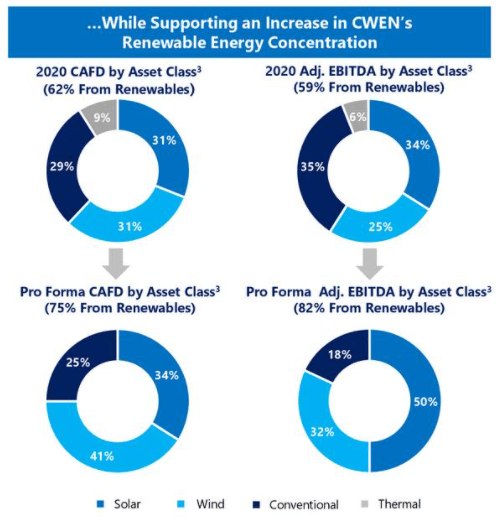 …it should also be accretive to CAFD/share and fuel dividend growth on the high end of the company's 5-8% target annual range through 2026.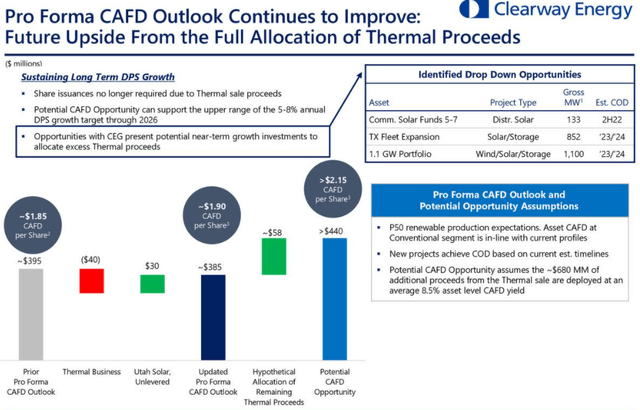 With an estimated $1.61 of CAFD/share for the full year of 2021, CWEN.A is valued at 19.3x CAFD based on the current situation, but it is an even cheaper 16.3x CAFD based on near-term pro forma CAFD/share that could be achieved as early as 2023 and 14.4x medium-term pro-forma CAFD that could be achieved by 2025.
Where else can you find a stock paying a 4.4% dividend yield that is growing at 7-8% per year?
NextEra Energy Partners
Despite having "partners" in the title, NEP generates a regular 1099 form for tax purposes rather than the more troublesome K-1.
Though NEP is the yieldco of Florida utility company and mega-renewables developer, NextEra Energy Inc. (NYSE:NEE), NEP is highly correlated with the performance of techy growth stocks, though with more volatility than the index.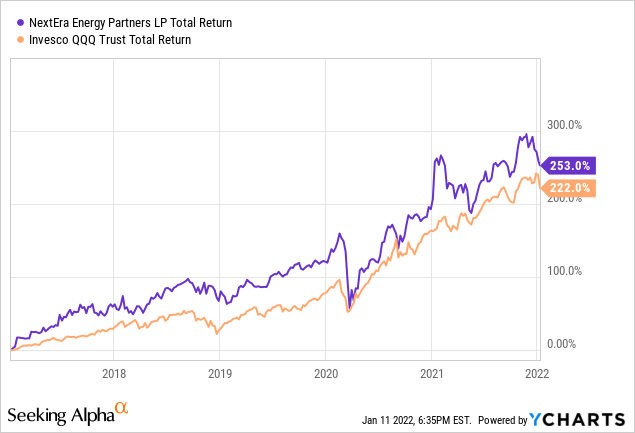 Here we see NEP's correlation with the Nasdaq, as measured by the Invesco QQQ (NASDAQ:QQQ). The reason for this strong correlation, in my estimation, is that NEP is the fastest growing of the renewable energy yieldcos and therefore, theoretically, more exposed to the threat of higher interest rates.
Though NEP has executed acquisitions from third parties in the past, including buying a wind portfolio from BEP in 2021, its typical source of portfolio growth is "drop-down" assets purchased from NEE.
Most recently, NEP announced the acquisition of a 50% stake in a 2.52 GW portfolio of wind and solar assets from NextEra Energy Resources, NEE's renewables development business. (The remaining 50% will be purchased by the Ontario Teachers Pension Plan.)
The total cost to NEP is $849 million, and the portfolio is expected to generate roughly $62.5 million of CAFD on average, which makes for a CAFD yield of 7.4%.
Though NEP experienced lower-than-usual CAFD/share growth in Q3, this was due primarily to unit issuance from a convertible equity deal made in 2020.
Based on estimated CAFD/share for 2021 of about $3.70, NEP currently trades at around 21.1x CAFD. I find this an agreeable price to pay for a company planning to raise its distribution at a rate of 12-15% per year through at least 2024 (14.9% average annual growth over the last five years).
Bottom Line – What to Buy Today
Readers may wonder what the best buy today is. This is a question I'm frequently asked in the comment section of articles like this one.
The truth is that I own all four and have been buying all four on the recent dip. But if I had to choose, how would I? Well, one way that I like to compare dividend growth stocks is by assigning each my best guesstimate of a projected yield-on-cost for some determined future point. For this, I must give my best estimate of what average annual dividend growth will be during the intervening years of this period.
So, here's a little exercise in projected 5-year YoC based on my estimates of dividend growth for each stock:
| | | | | |
| --- | --- | --- | --- | --- |
| | Atlantica Sustainable | Brookfield Renewable | Clearway Energy | NextEra Energy Partners |
| Price/CAFD | 16.5x | 23x | 19.3x | 21.1x |
| Dividend Yield | 5.2% | 3.5% | 4.4% | 3.5% |
| 5-Year Avg Div Growth | 4.5% | 7% | 7.5% | 14% |
| 5-Year YoC | 6.4% | 4.9% | 6.3% | 6.7% |
As you can see, despite having a lower yield, NEP is the most attractive pick today if it can hit my estimate of 14% average annual dividend growth in the next five years, which I believe it can. After all, parent company NEE has a massive development pipeline, and some portion of that is bound to be dropped down to NEP to fund further growth.
Though AY is currently struggling the most with growth, its valuation makes it the second most attractive if it can hit my 4.5% average annual dividend growth estimate. This may prove a challenge for AY, as it has only managed to grow dividends in the low single digits in recent years.
CWEN.A may not seem as attractive as AY at first glance, but I am much more confident in its ability to achieve average annual dividend growth in the upper end of its 5-8% target range in the coming years.
Thus, if allowed to choose two of the above, my choices would be NEP and CWEN.A. If only allowed to choose one, my money would go toward NEP.
Credit: seekingalpha.com – Source link