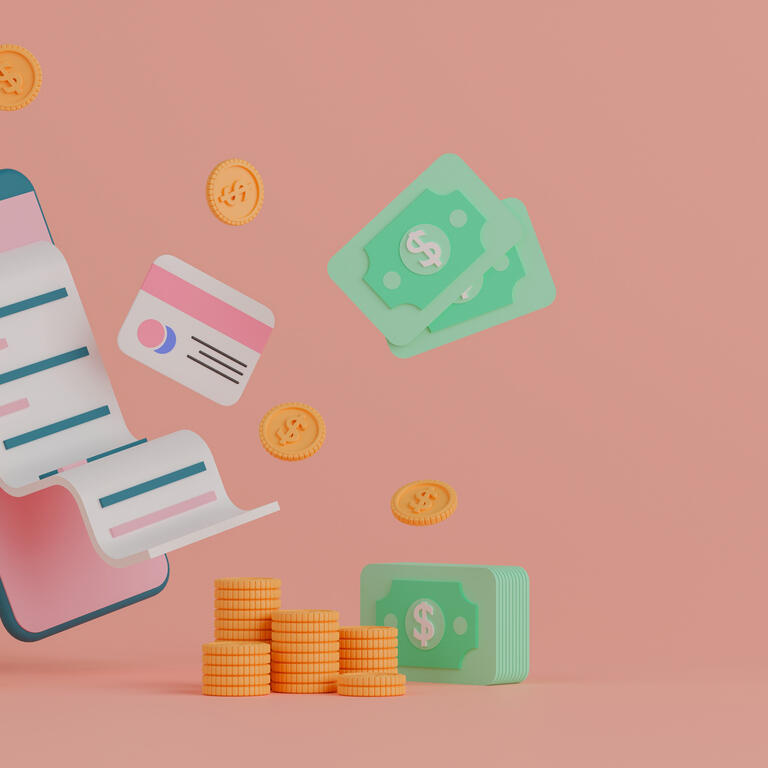 Article Thesis
Payment stocks have come under a lot of pressure in the recent past, and Paysafe Limited (NYSE:PSFE) and SoFi Technologies, Inc. (NASDAQ:SOFI) belong to those that have seen their shares decline rapidly over the last year. Despite declining valuations, both stocks are not necessarily bargains, however. In this report, we'll pit them against each other to determine which is more attractive today.
Are Paysafe And SoFi Competitors?
SoFi Technologies, Inc. offers a financial services platform that allows for a range of services, including student loan refinancing, home loans, auto loans, etc. SoFi also offers investments products, such as income-focused ETFs called SoFi Weekly Dividend/Income (NYSEARCA:TGIF) (NYSEARCA:WKLY) that are somewhat special due to offering weekly dividend payments (although at a very low level, of course).
Paysafe Limited, on the other hand, is less consumer-focused with its offerings, instead working with business customers, for which it provides digital commerce solutions including payment processing and others. Paysafe also offers some consumer products, however, such as its virtual cards and accounts under the Skrill and NETELLER brands.
With their differing product portfolios, Paysafe and SoFi Technologies are thus not direct competitors, instead, they are both active in the rapidly growing tech/finance space where all kinds of new businesses have been established over the last couple of years.
Why Have Paysafe And SoFi Stock Been Dropping?
There are several reasons for the weak performance of both Paysafe Limited and SoFi Technologies, Inc. over the recent past: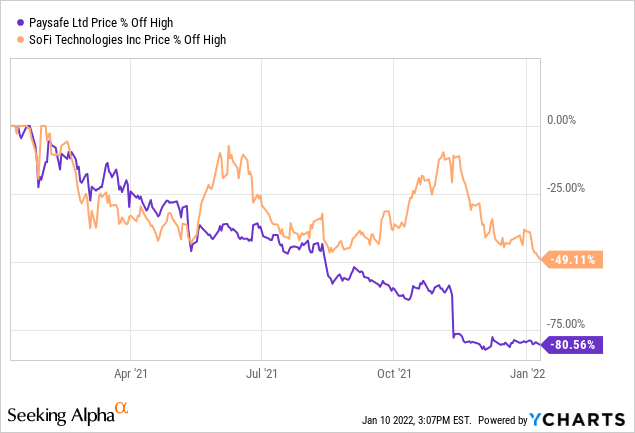 SoFi has seen its shares drop 50% from its 52-week high that was hit in early 2021, whereas Paysafe has seen its shares get devastated over the same time, dropping by a massive 80%. For reference, that means that Paysafe would have to see its shares rise by more than 400% for those that bought at the 52-week high to break even. This shows what an utter disaster an investment in Paysafe a year ago has been. In the above chart, we also see that the stock of Paysafe has seen a huge one-day drop last fall, which indicates that there must be company-specific factors at play, even though both companies were also hit by macro factors.
The huge one-day drop that Paysafe experienced was caused by the company's guidance cut that was part of the Q3 earnings release. The company lowered its revenue guidance, its gross profit guidance, and missed Q3 revenue estimates widely, also reporting a small year-over-year decline in revenues. That naturally is not well-received by the shareholders of a growth stock, which is why investors sent shares lower on that date.
Macro factors, such as general worries about stocks active in the payment and broader fintech industry, which also hit large-cap, established players such as Visa (V), played a role in the weak share price performance of Paysafe and SoFi Technologies as well. Last but not least, over the last couple of months, we have seen growth stocks, especially non-profitable growth stocks, underperform as the market is increasingly worrying about the impact that higher interest rates will have on the discount rates for these stocks, where most or all of the future profits lie at some point in the (possibly distant) future. More than one factor was at play, but it seems pretty clear that Paysafe's weak growth performance in Q3 and the not very encouraging outlook for Q4 played a huge role in that stock's particularly bad performance, relative to SoFi and relative to other fintech stocks that did not drop as drastically.
Paysafe Vs SoFi Key Metrics
Let's first look at the growth performance of these two stocks, as compelling business growth is likely one of the main reasons to invest in these stocks — after all, there are no dividends, and both are not really profitable today.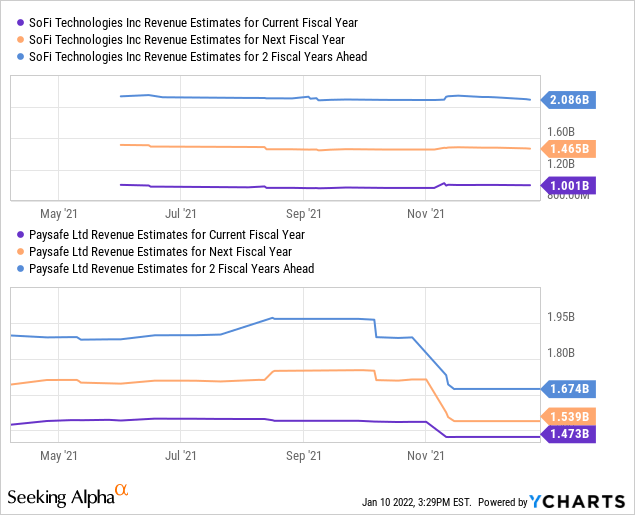 Note: Current fiscal year refers to FY 2021, Next fiscal year refers to FY 2022, and two fiscal years ahead refers to FY 2023 (due to Q4 results not being reported yet)
In the above chart, we see that the near-term growth outlook for SoFi is way better than that for Paysafe. SoFi is forecasted to see its revenue grow by 47% and by 48% in 2022 and 2023, whereas Paysafe is forecasted to experience growth of just 5% and 8% in 2022 and the following year. In other words, adjusted for current inflation rates, Paysafe is not generating any meaningful growth if the analyst community is right. SoFi, meanwhile, is growing at an attractive rate if current forecasts are correct. SOFI has beaten estimates over the last two quarters, which indicates that analysts have regularly underestimated the company, whereas Paysafe has one miss and one beat in the same time frame, indicating that there is no history of analysts underestimating the company. This might indicate that SOFI has a higher chance of beating current predictions for 2022 and 2023 compared to Paysafe, although there is no guarantee, as past patterns of revenue and earnings beats may not necessarily persists going forward.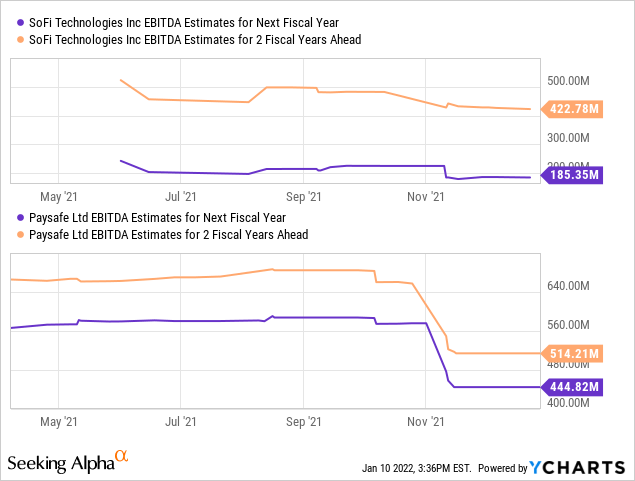 On a profit basis, we see that Paysafe is clearly more profitable today. It generates about $440 million of EBITDA on the back of $1.5 billion in revenue in 2022, based on current estimates, which makes for a very solid EBITDA margin of close to 30%. SOFI, on the other hand, is forecasted to generate less than $200 million of EBITDA in 2022, which makes for an EBITDA margin of less than 20%. On the other hand, due to its better business/revenue growth, SOFI is forecasted to experience larger tailwinds from operating leverage and increasing scale, which is why analysts predict that EBITDA will rise very rapidly, by around 130%, in 2023. For Paysafe, the EBITDA growth is forecasted at a mid-teens rate, which is comparatively weak.
With both companies offering EBITDA in a similar ballpark in 2023, the next step is to look at current valuations. In doing that, we see that SoFi Technologies is a much more expensive company compared to Paysafe: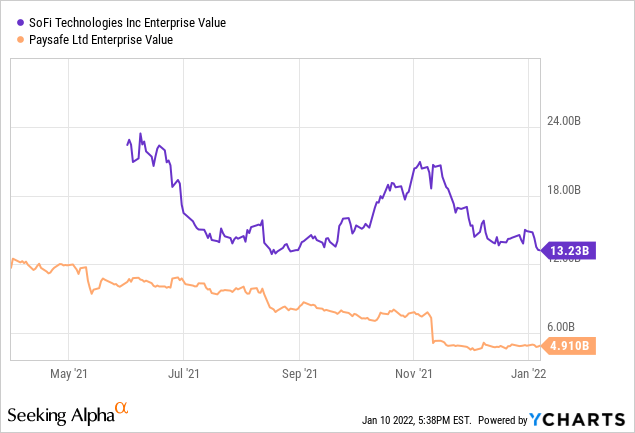 Based on the enterprise values of the two companies that we see above — looking at EV instead of market capitalization makes sense, as it adjusts for debt usage — we see that SoFi is trading for around 31x 2023's EBITDA right now. Paysafe, meanwhile, is trading at just below 10x 2023's expected EBITDA, which is a way less demanding valuation.
We should also take a look at the relative attractiveness of the two companies' business models, as well as at their respective moat.
In the above slide, we see SoFi's growth performance when it comes to members/users and products. Clearly, the company has maintained excellent growth that was very reliable over the last couple of quarters, steadily growing both its member count and the number of products on its platform. Product growth has been slightly higher than member growth over the last year, which is a good sign, I believe. This means that members are, on average, increasing their usage of SoFi's platform. If the company can keep this trend in place, it will be able to grow its business faster than its member count going forward, too, which should come in very handy once member growth decelerates (which will inevitably be the case at some point). With consumers being in a strong spot right now, and cash balances, on average, being high, SoFi's Money and Invest platforms have been doing particularly well. Should economic growth slow down, with consumer wealth declining, it seems likely that SoFi's consumer lending business would see steeper demand, thus providing for some recession resilience for SOFI on a company-wide basis.
Paysafe has not been performing this well on an operational basis at all, showcased by the weak revenue performance in the recent past, combined with the not very encouraging guidance given by management. In general, Paysafe should benefit from the industry growth in the iGaming space, but it looks like the company is not really able to set itself apart from competitors as a key player here. Instead, despite industry tailwinds, it didn't generate encouraging results during the most recent quarter. Management also has been touting the exposure to the crypto space, but here, again, the lacking growth brings up the question of whether Paysafe is an attractive competitor in this space if it generates lower revenue on a year-over-year basis despite being exposed to these growth themes. One observation is that volumes grew, while Paysafe's revenue per transaction declined. If that remains the case, Paysafe could continue to have problems when it comes to translating industry growth into sales growth. It is, of course, possible that sales and earnings growth will resume, but that is not guaranteed, which is why the valuation discount compared to faster-growing fintech players seems to be justified.
Is SOFI Or PSFE Stock The Better Buy?
SOFI and PSFE are both active in the fintech industry, but they differ quite a lot. SoFi Technologies, Inc. is the higher-quality company overall, I believe, due to better growth and stronger margins, combined with a more attractive business model. Paysafe, on the other hand, is the way better pick from a value perspective. Depending on whether you put more focus on growth or valuation, you might see SoFi or Paysafe as the better pick. Due to the fact that both companies have issues — uncertainties around the business model and future growth at PSFE, and the still pretty high valuation at SoFi — it might make sense to take a wait-and-see approach here. If PSFE manages to get back on the growth track in a meaningful way, it could be a solid investment, although that is not guaranteed today. Likewise, it seems quite possible that SoFi, which has a solid growth outlook, gets less expensive going forward, especially with interest headwinds looming. I would not be surprised to see shares decline further over the coming months, which could make for better buying opportunities later this year, which is why I don't feel compelled to take any position in either stock today.
Credit: seekingalpha.com – Source link