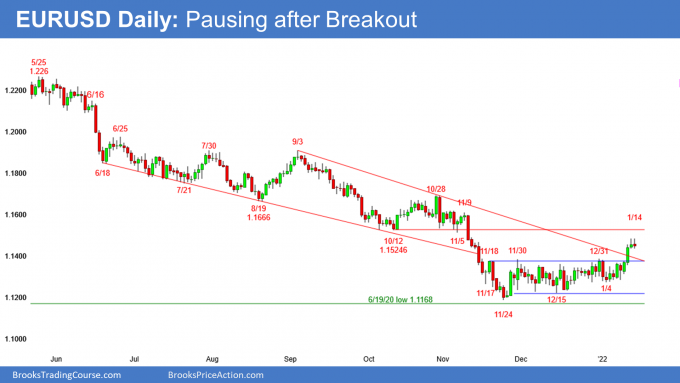 – Wednesday broke far above the seven-week tight trading range and bear trend line from May 25 high.
– Yesterday was a bull follow-through bar, which increases the chance that the breakout will be the start of a swing up. However, it had a prominent tail on top, and it is, therefore, weak follow-through.
– Today so far is another small doji day. It currently has a bear body.
– This weak follow-through increases the chance of a test down to the top of the seven-week tight trading range early next week.
– The bears want the breakout to fail. They will need at least a couple big bear bars to make that likely. Currently, the odds favor higher prices.
– First target for the bulls is a breakout above the Oct. 12 low, which was the breakout point for the November collapse.
– Above that is the Nov. 9 high, which was the top of the most recent sell climax.
– The most important target is the Oct. 28 major lower high. If the bulls break strongly above that, then the yearlong bear trend will have ended. The daily chart would then either be in a trading range or a bull trend.
– On the weekly chart, this week is a bull bar with a close above the bear trend line and the top of the seven-week tight trading range. The bears will try to get the week to close back at the trend line instead of on the high of the week. That would reduce the chance that the reversal up will be successful.
– If next week is a bull bar, it will increase the chance of a reversal up to the Oct. 28 high.
– If instead it is a bear bar closing near its low, it will be a Low 2 sell signal bar for a failed breakout above the tight trading range and bear trend line. The bigger the bear body and the more it closes near its low, the more bears will short below this week's low.
Credit: www.investing.com – Source link