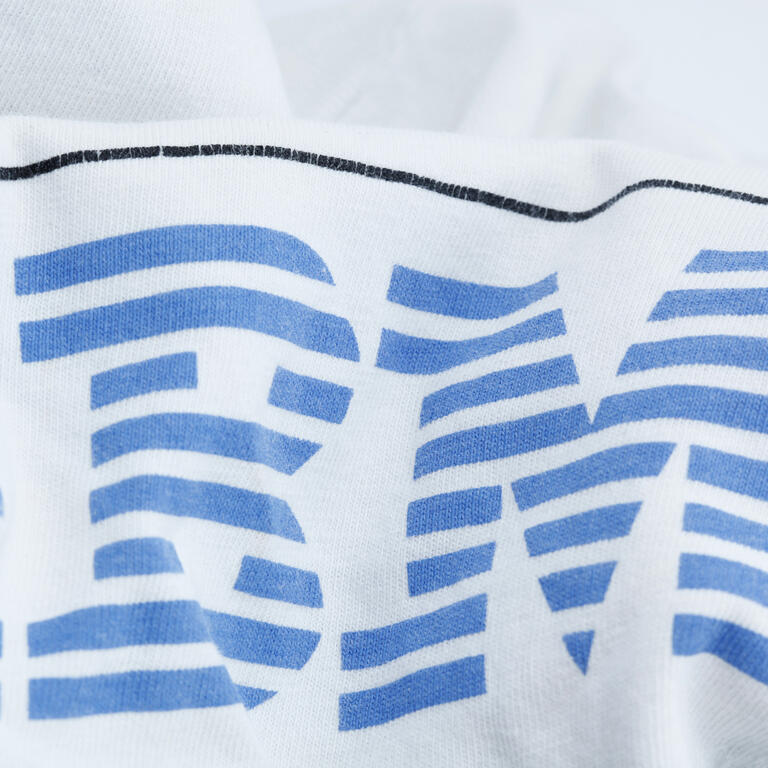 Background and Overview
International Business Machines (IBM) is one of the oldest and most successful technology conglomerates in the world. Currently, the company serves multiple technology end markets such as cloud computing, artificial intelligence, and IT infrastructure. Moving forward, IBM will continue to be disrupted by multiple different peers. Each peer beats out IBM in terms of market share, as none of IBM's products are number one within their product category. This spells trouble for the future as disruption is already taking hold within multiple business units.
Financials are Strong
While other areas of IBM are weak, overall, the financial picture is strong. This is because of IBM's disciplined cash focus and overall discounted valuation. Many value investors point to IBM's yield and fundamental metrics that suggest the company is undervalued compared to peers. This is done on purpose by institutions to present investors with a value trap. The public market valuation may be low, but currently, investors are expecting very low top and bottom line growth for the company. The only hope is rapid product innovation across the portfolio.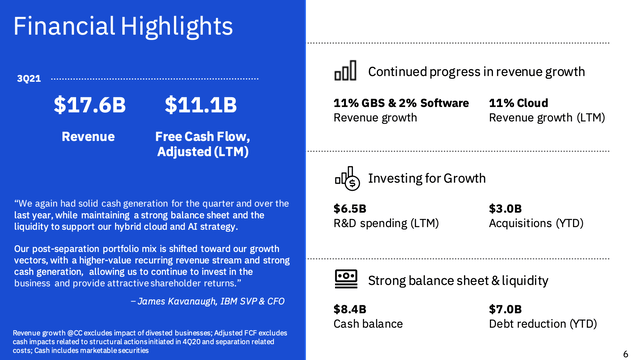 Overall revenue came in at $17.6 billion, and free cash flow was $11.1 billion. This means that earnings accounted for roughly 60% of revenue. Value investors consistently point to this as a strong point for the company. However, if a technology company this successful was trading at 11x FWD P/E, I would be more nervous than excited. It shows there is low investor enthusiasm for the stock. The growth picture for IBM hasn't materialized, and the stock doesn't reflect a change in sentiment.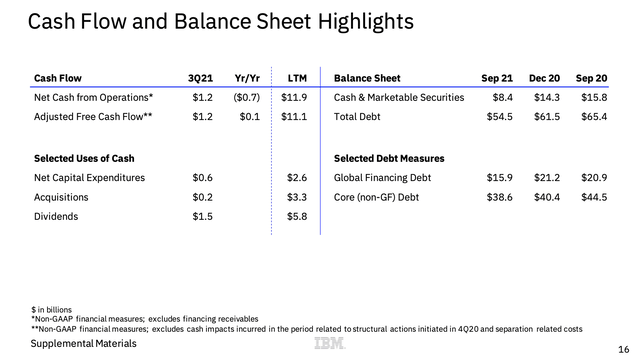 The balanced approach to cash flow generation will be sure to reward shareholders. Even though growth doesn't look promising, the future dividend yield does. While it may be due to price stagnation and consistent earnings, it doesn't take away the merit of a 5% yield. In short, if Powell goes through with the Fed rate hikes, this could be a $170 dollar stock. However, I am not a fan of the lagging growth and nonexistent plan for the product portfolio.
Operational Failures will Infect Future Growth
Operational lagging will be detrimental to future growth. The lack of a strong product portfolio will become more of a problem in the future. I do not like the future prospects given shaky business fundamentals and stagnant growth. However, I cannot ignore the fact that IBM is distinct from a subset of technology stocks that would benefit from higher interest rates. Less money slushing around in the Silicon Valley money supply means more time for IBM to establish considerable moats. I have yet to see that and I am actively looking for reasons to give IBM the benefit of the doubt when it comes to growth, but they simply don't have the tools to make it happen.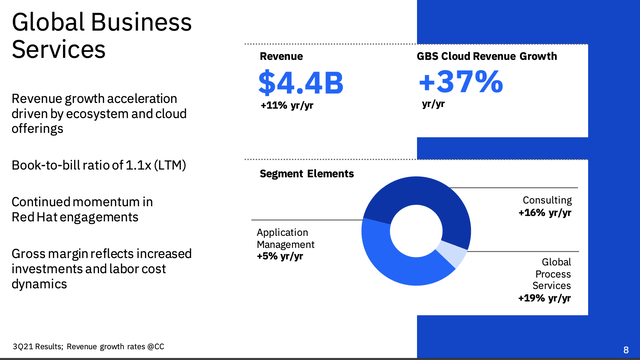 Global business services may be a legacy business, but don't underestimate its earnings power. It currently shows overall 11% growth and 16% growth from consulting. I believe IBM could make the switch to a technology consulting enterprise and sell off the rest of the business units. This would give IBM considerable cash to make an acquisition and establish future business that way. There are different routes to giving IBM a makeover, but the executives haven't made those moves. For that reason, even though there is steady growth in some sectors, I have to remain on the sidelines with IBM.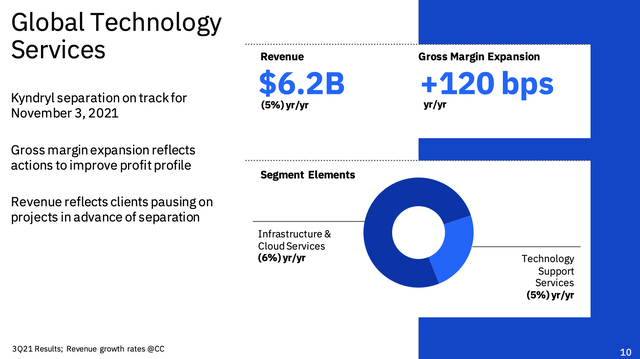 Global Tech Services has been a laggard year over year. This business unit has been aging and contracting year over year. This is mainly due to the prolific operations that Oracle (ORCL) has done over the past 12 months. I really believe this unit should be spun off first before other businesses with growth potential see the door. I am specifically talking about the Kyndryrl (KD) Spinoff. I believe this was an inherently bad spinoff as it took away a burgeoning technology infrastructure management business that could've been a strong revenue driver. Either the company should continue with spinoffs and make a large acquisition, or it should focus on free cash flow and operational excellence.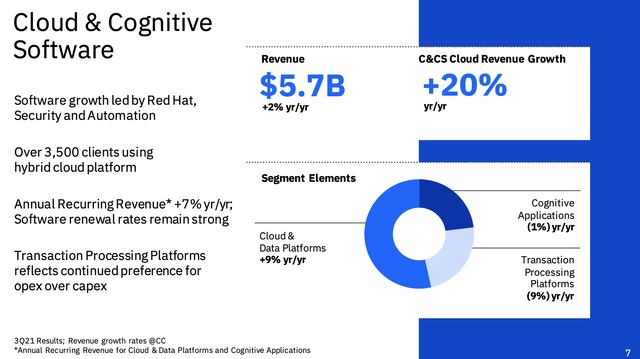 Red Hat is simply not enough to carry the cloud and cognitive software business forward. There needs to be a substantial reworking of the business in order for organic growth to occur. I believe an acquisition of a young tech conglomerate would be a smart move and would bolster a new era of IBM's product portfolio. Otherwise, I don't see many momentum drivers making IBM the darling stock on the street for the long term.
High Risks Due to Industry Disruption
There are so many risks to IBM's long-term outlook. From Oracle to Accenture (ACN) to SAP (SAP), IBM has been getting the short end of the stick for some time. I do see that trend stopping due to a multitude of company specific risks. Firstly, the company has no competitive future product portfolio to compete with a variety of competitors. This will continue to weaken the growth story and make IBM un-investable in the coming years. The fundamental picture looks to me like a growth trap, and I would consider IBM a high-risk stock. The prognosis is not strong and there are not many options to treat IBM.
Valuation is Too High Due to Macro Tailwinds
IBM's valuation is too strong due to the rotation out of growth and into value. I used Accenture and Oracle because these are two technology behemoths that have long-standing profitable businesses that compete with IBM. Many analysts put these stocks in similar baskets, so I believe it's fair to use them when considering valuations.
Source: (IBM Price Return Seeking Alpha Peer Comparison)
Recently, IBM has been underperforming its peers for a multitude of reasons. First off, the company has seen no strong product growth in any of its business units that would exude investor confidence. I don't believe there is a long-term story for IBM and many retail investors and analysts alike, I believe, are getting tired of the same growth story over and over again.
Source: (IBM Price/Cash Flow Seeking Alpha Peer Comparison)
Considering IBM is an older cash-making enterprise, it is only fair to value the company on a cash-to-price flow basis. Due to the recent uptick in the price of Oracle and Accenture, their price/cash flow is much higher than IBM's. Investors can take this chart two ways. First, that IBM is undervalued relative to its technology peers on a price to cash flow basis and that it provides a good opportunity to acquire shares. Or you believe that shares currently present a value trap as IBM has failed to perform well in a sector rotation that would directly favor the stock.
Conclusion and Rating
I do not believe IBM will make a good long-term investment moving forward. While the sector rotation may persist due to the macro environment, IBM will continue to lag. Even in this early rotation, IBM has failed to perform as well as its peers. I dislike IBM shares moving forward and give the company a neutral rating due to its poor growth outlook and financial basis.
Credit: seekingalpha.com – Source link