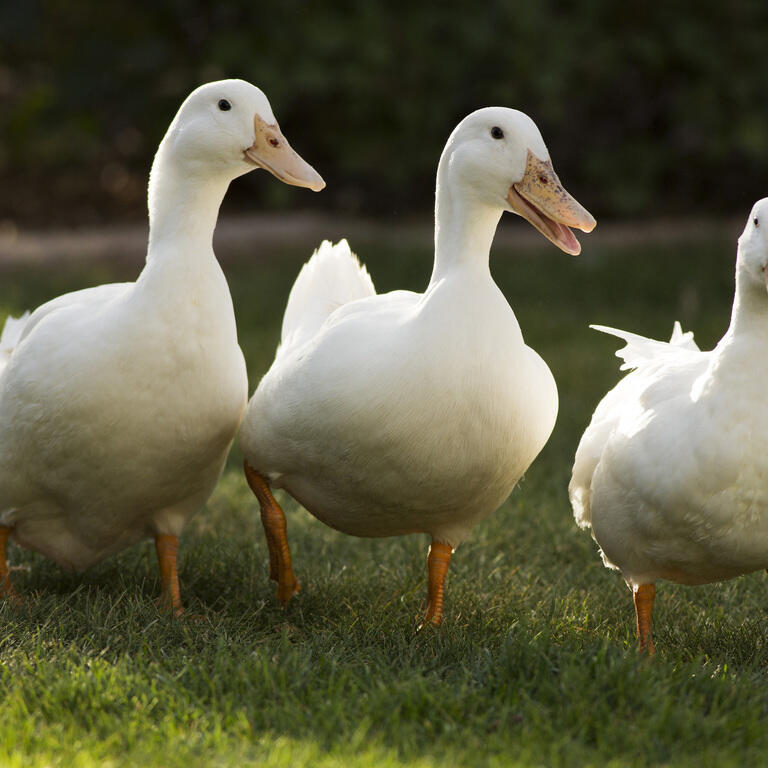 When The Ducks Are Quacking, Feed Them
More SPAC capital has been raised in the first six months of 2021 than in the past 20 years, combined. Wall Street knows an eager, price-insensitive buyer when it sees one. As the cynical expression goes, when the ducks are quacking, it's time to feed 'em
Source: GMO
This is a perfect description for what's fueled the dramatic rise in SPAC issuance in recent years. Wall Street is in business to make money, and SPACs are a perfect vehicle to tap into the bubbling of investor enthusiasm for new private companies.
SPAC listings have been used as a means to take private companies public for decades. However, with a spotty track record, this type of IPO listing had typically not been a popular strategy for companies to go public. In 2014, SPAC listings made up just 2% of the total IPO market.

In recent years, the appetite for SPAC listings has grown exponentially. In 2020, SPACs commanded a record 53% of the US IPO market. SPACs grabbed an even greater share of the IPO market in 2021 making up 63% of total listings. This flooding of pre merger SPACs has resulted in hundreds of blank check companies searching for viable private companies to merge with.

Given their 2 year time requirement to complete a merger, I expect mass liquidations of capital or a continued flood of low quality merger targets in the coming months.
The indxx SPAC and Next Generation IPO Index
The Defiance Next Generation SPAK (SPAK) ETF, the first SPAC ETF, tracks a rules based index that considers a list of SPACs and selects the most liquid, compelling and innovative companies. SPAK gives investors exposure to the entire IPO flow, from the pre- deal blank check companies (the Special Purpose Acquisitions Corporations ["SPACs"]), to the ex-warrants and initial public offerings ("IPOs") derived from the SPACs. The Index has an aggregate weighted allocation of 60% to IPOs derived from SPACs and 40% to SPACs at the pre-deal stage. Defiance's SPAK ETF holds stocks for two years postmerger, ensuring investors gain the full benefit of the deal and subsequent development.
Source: Defiance ETFs
I like the idea of spreading my bets with a potentially transformative investment opportunity such as SPAC IPOs. But with a risk-off market environment taking hold, SPACs are likely to be a poor segment of the market for allocating capital. Even after its nearly 50% drawdown I do not believe that the SPAK ETF provides sufficient margin of safety for investors.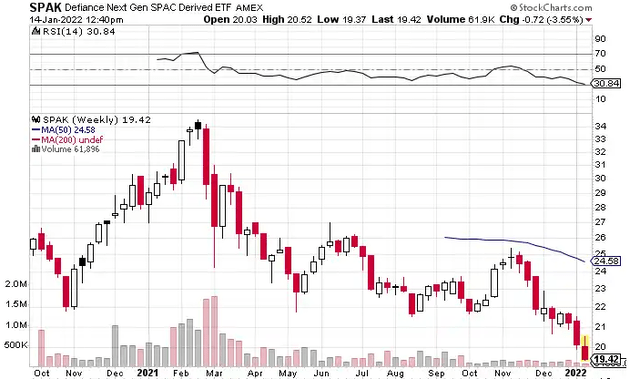 Many of the companies in its portfolio have unproven business models, with a number of pre revenue companies. Its second largest holding Pershing Square Tontine Holdings (PSTH) failed in its attempted merger and has until July to announce a new merger target, it is likely to be returned as cash to shareholders. I won't even bother making a case for the viability of the Digital World Acquisition Corp (DWAC) SPAC merger.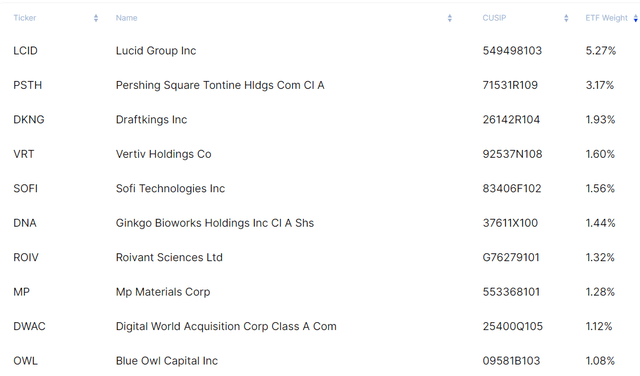 Some may view the 40% of pre-merger companies in the portfolio effectively as a cash position. Proceeds in a pre-merger SPAC are invested in government bonds and returned to shareholders in the event that a target company fails to get acquired. I wrote about a situation where the target company being pursued by the SPAC ultimately failed to get approved. Shares in that shell company are now trading close to their $10 cash value. This is a better outcome however than some of the recently finalized SPAC acquisitions.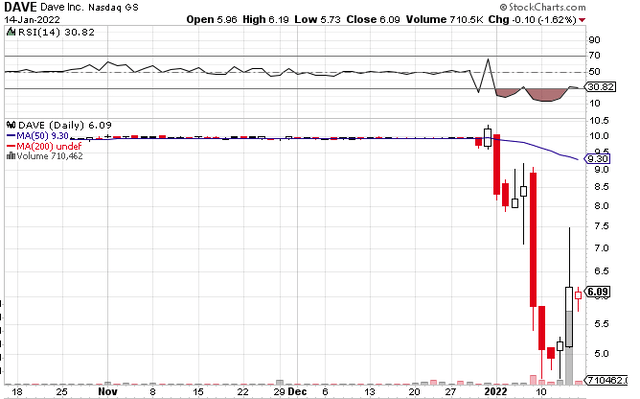 Given the likelihood for poor performance during the post merger phase, this "cash position" can quickly yield a loss.
SPAC Projections Are Nothing More A Shot In The Dark
SPAC IPOs provide private companies with a potentially quicker and cheaper path to public markets. In addition, SPACs often have less disclosure requirements and receive less overall scrutiny from many of its public investors. Target companies in a SPAC merger are authorized to make far out revenue projections, something which is generally forbidden to companies in the traditional IPO process.
SPACs have an apparent benefit over IPOs, in that SPAC management can make "forward looking statements" thanks to the 1995 Private Securities Litigation Reform Act. About 8 out 10 SPACs chose to do this. They often provide rosy presentations to investors. These projections appear to move the market.
Source: Forbes
A potential problem with newly public companies making far out revenue projections is the high degree of uncertainty which is involved. According to a study by Berkeley and University of Buffalo researchers, the median SPAC that they studied had an expected CAGR for its revenue of 28%. The actual realized median CAGR of revenue for firms studied in a period from 1950 to 2015 was only 5%.
Based on conclusions of this study, just 1 in 8 firms are likely to be successful in achieving a 25% CAGR of revenue over a 3 year period. This drops to just 1 in 40 firms for a 10 year time period. SPACs are younger companies at early stages in their business cycle, so this expected data may be a bit skewed to the downside. Still, it is unrealistic to expect a majority of these target firms to meet their sky-high revenue expectations.
Let's use Virgin Galactic (SPCE) as an example. Virgin Galactic (SPCE) went public via a SPAC IPO in October 2019.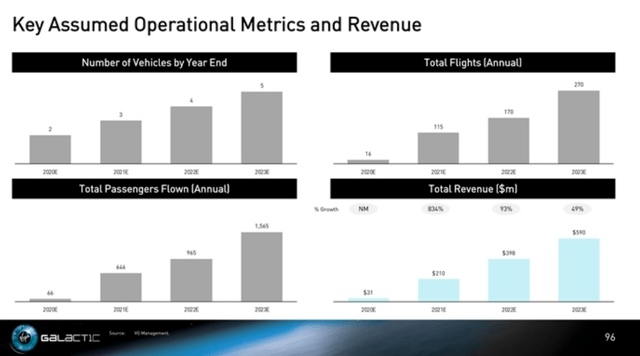 Based on its investor presentation, the company was expected to grow its revenue from $31 million in 2020 to $590 million in 2023. This would have resulted in an incredible CAGR of 167% over this 3 year period. Virgin Galactic has instead gone on to record just $3.2 million in revenue in its last TTM.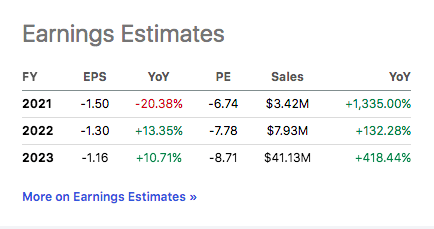 Even with impressive 132% and 418% expected revenue growth rates for 2022 and 2023, Virgin Galactic will barely surpass its expected revenue level for 2020. Based on current analyst estimates, Virgin Galactic is expected to earn just 7% of its projected revenue total in FY 2023. These poor results make it clear that a SPAC target company's future revenue projections should be taken with a grain of salt.
A Gift To Wall Street

The sponsor in a SPAC is typically a well known figure on Wall Street or even on occasion a celebrity promoter. The SPAC sponsor is gifted free shares (typically 20% of the eventual float) in exchange for their service helping to find a private target company to merge with. The underwriter (large Wall Street firms) charge an upfront fee (typically 5.5% of proceeds) in exchange for the distribution of shares to the general public. SPAC IPO investors (hedge funds) are gifted free warrants (the right to purchase shares at a substantially lower cost) in exchange for supporting the SPAC until the time of its merger. None of these parties incur any risk of loss of capital with their investment.
Typically before a SPAC merges with its target company, private investors (institutional investors) participate in what's known as a Private Investment in Public Equity (PIPE). They are often gifted additional shares or free SPAC warrants for their backing. Finally, secondary investors (retail) can purchase shares without any of the sweetened incentive packages given to the other parties.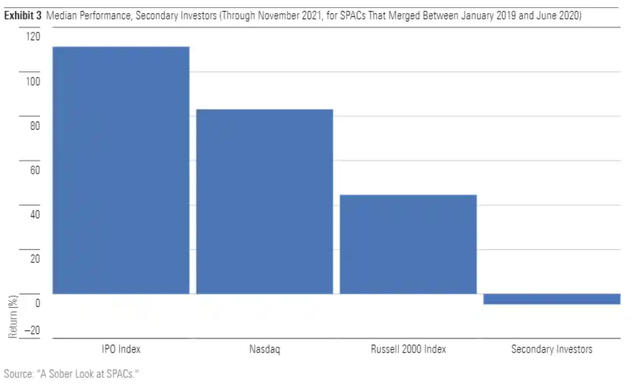 In what was supposedly a tool to democratize and disrupt the traditional IPO process, SPACs can often be a worse deal for retail investors. Ironically many of the complaints people had with the traditional IPO process are now commonplace in SPAC IPOs.
Conclusion
With no knowledge for what a SPAC will ultimately become, investing in a pre-merger SPAC is the equivalent of buying a black box. Unfortunately, retail investors get very little compensation for maintaining faith in a SPAC sponsor.
With payout incentives that heavily reward a sponsor for finding a suitable target, and little time left for many SPACs to finalize these acquisitions, I expect the trend of significantly lower quality target companies to persist. Continue to wait for a better entry.
Credit: seekingalpha.com – Source link