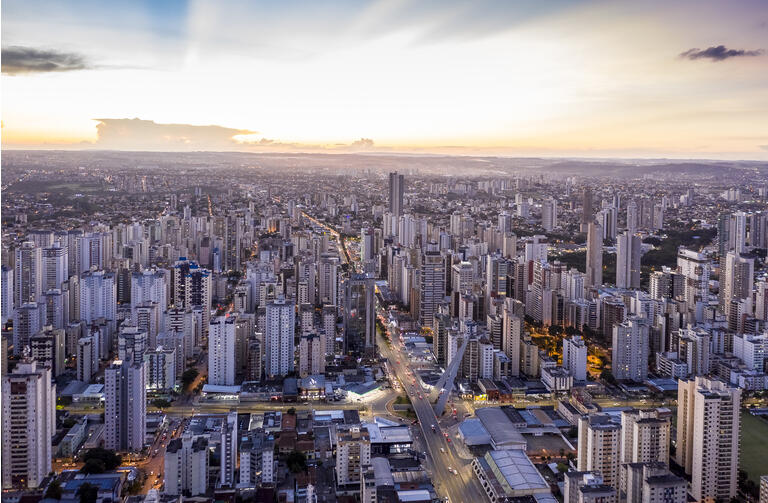 Leveraging is not evil but must be used with extreme caution and care. – Naved Abdali
Introduction and notable features of the product
In this week's 'Leaders-Laggers' section of the Lead-Lag Report, I've highlighted the value on offer with emerging markets relative to the US markets. It appears that after a long period of weakness, this ratio may have bottomed out, at least in the intermediate term; also note that typically when EMs get this cheap relative to the S&P 500, they tend to do rather well in the subsequent years. Even though most EMs are currently dealing with issues ranging from high inflation to slowing growth, equity prices can often flip well in advance of an economic recovery and the performance of EMs for much of 2022 suggest that some rotation may be underway.
One can also see this being reflected in a leveraged play on Brazil; the Direxion Daily Brazil Bull 2x Shares ETF (BRZU), a product that attempts to provide 2x the daily returns of the MSCI Brazil 25/50 index came out of a long-term descending channel by forming a bottom on the daily chart, and over recent days, we've also seen a significant spike in the performance.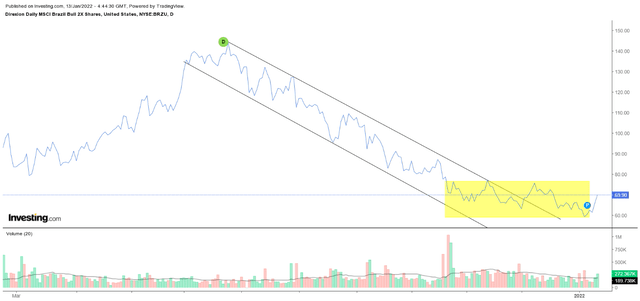 Having said that, I also want to state that this product is certainly not for your archetypal buy-and-hold investor; rather if you're someone with a keen propensity for leverage, have a trading mindset, and have the bandwidth and time to keep an eye on daily performances, then you could maybe gravitate towards BRZU. Also do consider the fund's daily reset feature; say, for instance, the MSCI Brazil 25/50 index (covers 85% of the free float-adjusted market cap of Brazilian issuers) is up 20% in a month, don't necessarily expect BRZU to garner 40% returns for the same period as the intention here is to only deliver 2x return on a per-day basis and various portfolio adjustments over a month could certainly alter the return picture relative to the benchmark.
Also, be well aware of the volatility quotient and what that could do for something like a BRZU. As mentioned in the 'Global View' section of this week's Lead-Lag Report, both the VIX and VVIX have remained relatively subdued and this bodes well for something like a BRZU which tends to flourish when market volatility is low.
Brazilian landscape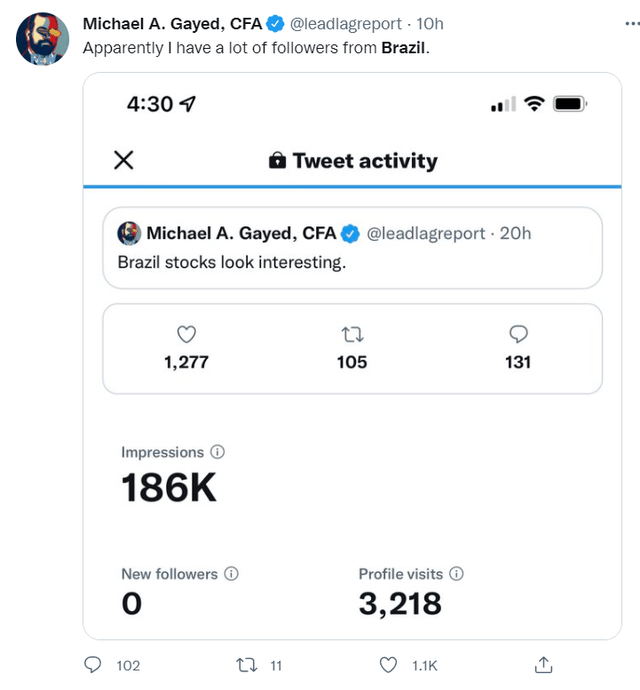 If you follow me on Twitter, you'd note that recently I've highlighted Brazil as a terrain to keep a key eye on. In the introductory section, I highlighted the value potential on offer with the general EM basket. Well within EMs, Brazilian equities appear to be one of the cheapest pockets around trading at a 38% discount to the broad emerging market universe (the flagship iShares MSCI Brazil ETF only trades at 7.3x forward P/E vs the corresponding multiple of 11.8x of the iShares MSCI Emerging Markets ETF).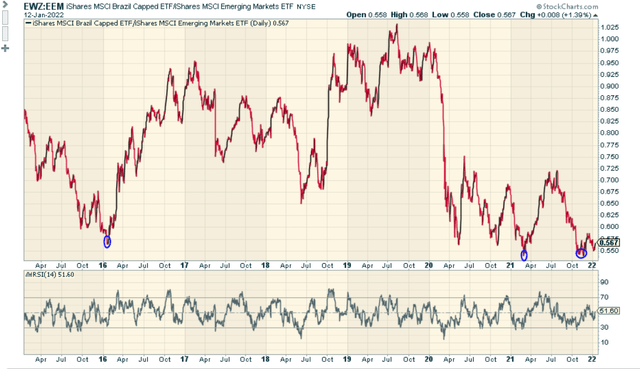 We can also see that traditionally when the Brazil:EM ratio has fallen below the 0.6x levels we typically tend to see some bottom formation, followed by a bounce.
Having highlighted the attractive value angle, it is also important to note that there's a reason why Brazilian equities are trading at such lowly levels.
Firstly, do consider that the Brazilian economy will likely finish 2022 as one of the lowest growing EMs (1.4%) with only Haiti expected to throw up a more adverse growth picture. In recent months, Brazil has struggled with hyperinflation with the monthly readings coming in above 10% for four straight months (to contextualize this, note that the central bank's target range is 3.75-5.25%)! This has eroded the purchasing power domestically even as unemployment remains at exceptionally high levels of 12%. To counter the inflationary landscape the central bank has been forced to hike rates by 800bps and one can expect a further hike of 150bps by Feb and another 75bps by March. Under such steep financial conditions, it would be unreasonable to expect the growth prospects to come back with a bang but I believe there is some cause for optimism.
I'm not sure inflation will continue to persist at the 10% plus levels for the foreseeable future, and it does appear that things may have peaked particularly as we are close to hitting the high base effect. In fact the recent December reading of 10.06% showed a decline for the first time since May 2020!
Then consider that the country will be going to polls this year and it is widely expected that the current incumbent- Bolsonaro will likely come up short. This is a good thing considering how poorly Brazil has fared during his tenure; also note that 60% of the population said that he has done a bad job. Equity markets don't like any uncertainty or the prospect of a tight race but recent polls show that former president- Luiz Inacio Lula da Silva remains far ahead in the Presidential Polls with a figure twice as much as Bolsonaro's.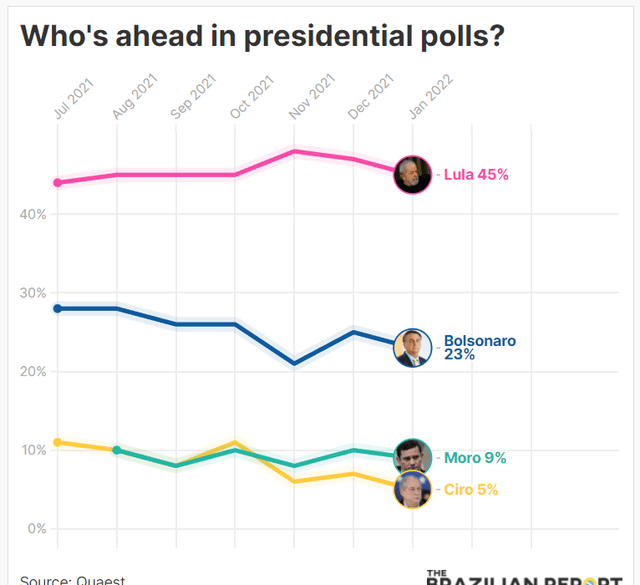 Source: Brazilian Report
Then as pointed out in The Lead-Lag Report, on account of the persistent hikes by the Brazilian central bank, the yield on Brazil's 10-Y Government bonds has hit rather attractive levels; when I flagged this back in late Dec it was at 10.63%; these days it is closer to 11%. As the US Fed begins to tighten rates, you could see a lot of flows towards US bonds but I believe Brazil is well-poised to account for this given that you're looking at further rate hikes of over 200bps in Q1. This should help provide some support to the Brazilian Real relative to some of the other competing risk currencies.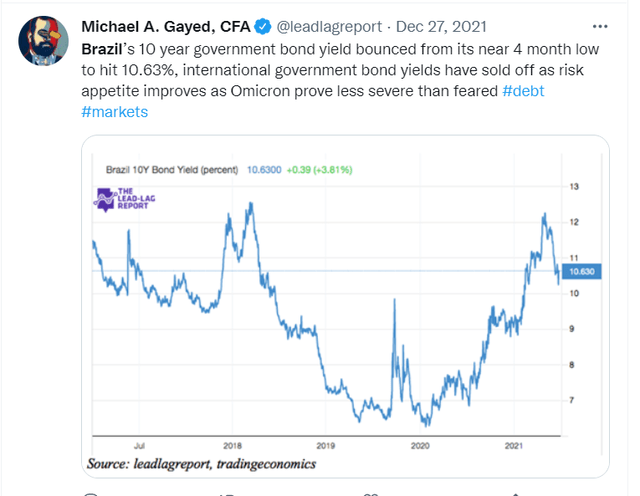 Finally, it's also worth noting that even though the economic landscape under the Bolsonaro administration hasn't been the most comforting, there's one facet that has fared rather well; that of infusing private sector capital in the country's infrastructure agenda. Since the beginning of the Bolsonaro administration, the government has been able to cough up $26bn in fees and $145bn in investments by auctioning 131 concessions; before his administration took over, the government was previously only able to garner $8bn in fees and $44bn in investments. Looking ahead, in 2022, the government plans to hold 10 auctions for mineral rights and has also lined up 26 airports, 25 ports, 10 highways, and 9 national parks and forests. Brazil's finance minister estimates that these investments could help push economic growth in 2022 closer to the 2% mark (note that this is 60bps higher than the World Bank's expectation of 1.4%).
Conclusion
From an economic perspective, one is staring at a mixed outlook for Brazil, although there is some reason to be optimistic about a bottom being in place. Valuations too are ideal. That said, once again I want to reiterate that BRZU likely can only be pursued by aggressive-minded market participants who have the bandwidth and the wherewithal to track its progress on a daily basis.
Credit: seekingalpha.com – Source link